Yale School of Public Health
The Grubaugh Lab is located within the Yale School of Public Health, Department of Epidemiology of Microbial Diseases. Our department uniquely combines clinical, computational, and laboratory-based approaches to combat infectious diseases around the world.
read more about our department
Genomics to study virus epidemiology
We are using pathogen genomics to study how dengue, West Nile, Powassan, and, yes, even SARS-CoV-2, emerge into new areas, cause disease, and adapt to novel environments. Ultimately, our goal is to better understand and respond to outbreaks.
learn more about our research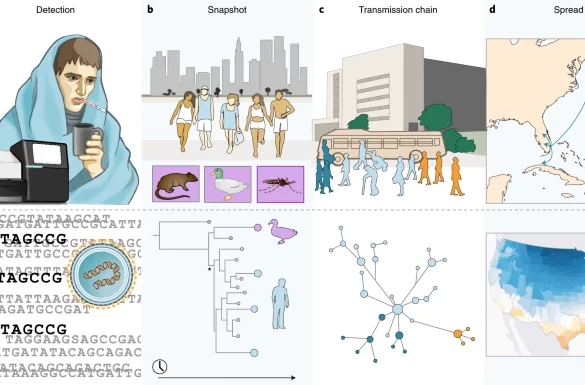 NIH New Innovator award to track dengue virus
The team was awarded the prestigious NIH New Innovator award (DP2) in 2022 to build tools to support a global dengue virus genomic surveillance program. These efforts will include (1) developing a pan-serotype sequencing assay, (2) a hierarchical lineage nomenclature system, and (3) a webtool for analysis and data tracking. The Grubaugh Lab will also initiate partnerships across the Americas to help integrate dengue virus sequencing into public health programs and use the data to inform control programs.
press release
open data via Nextstrain
Pathogen Genomics Center of Excellence
We are proud to be one of the academic partners, along with the Broad Institute, Boston University, Fathom Information Design, Massachusetts General Hospital, and Theiagen Genomics, for the Northeast regional Pathogen Genomics Center of Excellence (PGCOE). This is one of five such centers recently launched by the U.S. Centers for Disease Control and Prevention (CDC). With $25 million in funding over five years, the center's goal will be to improve technologies and coordinated processes for systematically monitoring infectious diseases and emerging variants, enabling the U.S. to better prevent and respond to outbreaks.
press release
CDC AMD program
Novel methods to detect oubreaks
COVID-19 pandemic response
Yale SARS-CoV-2 Genomic Surveillance Initiative
In collaboration with public health agencies and diagnostic labs across Connecticut, we established a routine SARS-CoV-2 genomic surveillance system to track emerging variants.
Visit our COVIDTracker website
Genomic epidemiology to track SARS-CoV-2